ENJOY UR WOW - PVP TRINKET
Please get your self a
Medallion of the Horde
if you want to excel in PVP, for those who are in COS, and you are yet to have the trinket, please equip your self with it. Take it as your first priority and halt playing the alternate character.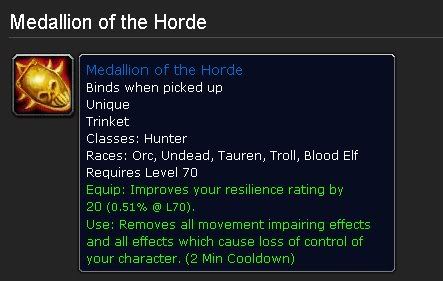 Each class will have their own medallion. It cost
16,983 honor point.
http://www.wowhead.com/?item=28243
Alternatively, try to get the
Battlemaster trinket
for your character. THis little trinket Increases maximum health by 1750 for 15 sec (3 Min Cooldown). There are a total of 6 variation of Battlemaster trinket consist of Crit, haste rating, spell / healing damage, Spell crit, attack power and healing / spell damage.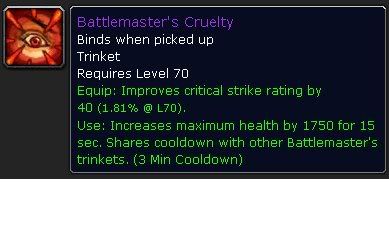 The easier way to get is to buy from
G'eras
in Terrace of light, Shattrah City for 75 Badge of Justice (BOJ).
http://www.wowhead.com/?search=battlemaster%27s
The third PVP trinket which i am recommending for PVP players to get is
Talisman of the Horde
, which is most of time overlook
by PVP players, beside the additional resillence rating, it Heal self
for 877 to 969 damage. (2 Min Cooldown). Even though it heals lesser hp compare toBattlemaster trinket, this trinket heal solid 877 to 969 damage, while battlemaster will only give maximum health by 1750 for 15 sec. Furthermore, this trinket will trigger healing crit.
http://www.wowhead.com/?item=24551#sold-by
This trinket however prove to be quite expensive, it cost 22,950 honor points and 10 eye of the storm mark of honor.
Enjoy YOur PVP. Equip yourself.